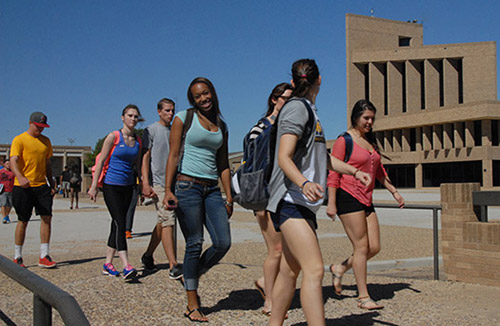 visit our campus
At Wayland Baptist University, we have a very clear definition of "family." When you visit our main campus in Plainview, you'll see what we mean.

You will find an environment in which each individual's talents, interests, and dreams are embraced and cultivated. You can get a firsthand look at the physical surroundings and facilities in which you will excel. And you can discover how very special being a part of The Wayland Family can be.

You have several options to consider when planning your visit to Wayland. Please make your selection from one or all of the following:
Customized Visit including Campus-Tour
It's best to reserve your tour time a few days in advance so we can make your day with us as informative and fulfilling as possible. Your personalized visit will provide the perfect opportunity to tour the campus, meet current students, speak with professors, meet with financial aid counselors, try our food, and visit residence halls.

For reservations please complete our online registration form or feel free to contact the WBU Admissions team at admitme@wbu.edu or 1-800-588-1928.
Preview Events
Wayland's small classroom, rigorous academics and a faith-based environment provide students with the skills needed to succeed. Each preview day is filled with campus tours, visits with faculty and information sessions on Admissions, Financial Aid and Housing. Come see first-hand what Wayland has to offer.

Please click on the link associated with the previous day(s) you would like to attend in order to register. You're also welcome to contact the Wayland Admissions team at admitme@wbu.edu or 1-800-588-1928.
Scholars Day : Friday, October 14
Sign Up Now!
Homeschool Day : Wednesday, October 19
Sign up Now!
GOLD RUSH : Friday & Saturday, November 11 & 12
Gold Rush is Wayland's fall preview event. It's packed full of information and opportunities for high school juniors and seniors, transfer students, and families.
Sign up Now!
Pioneer Days: Fridays… January 20 & 27, February 3 & 17
Sign up Now!
Academic Days : Fridays… February 10 & 24
Sign Up Now!
BIG WEEKEND : Friday & Saturday, March 24-25

BIG WEEKEND is an excellent way for you -- as a high school or transfer student -- and your family to to learn all about our university and the #WaylandPioneerFamily! Our annual spring preview event gives you the chance to sit-in on classes, meet professors and administrators, interview for scholarships, apply for admission and financial aid, secure housing, try-out for athletic teams, audition for music and fine arts opportunities and learn all about the Wayland Pioneer spirit!
Sign Uo Now!

Junior Day : Friday, April 28
Sign Up Now!



To get a sneak peak at our campus, please view our interactive map.